Australian cricketer Glenn Maxwell played an amazing game, scoring 201 runs and helping Australia win against Afghanistan in the World Cup. Even though he was hurt and had trouble walking, he hit the ball very well, making this one of the best games ever played in a one-day international (ODI) cricket match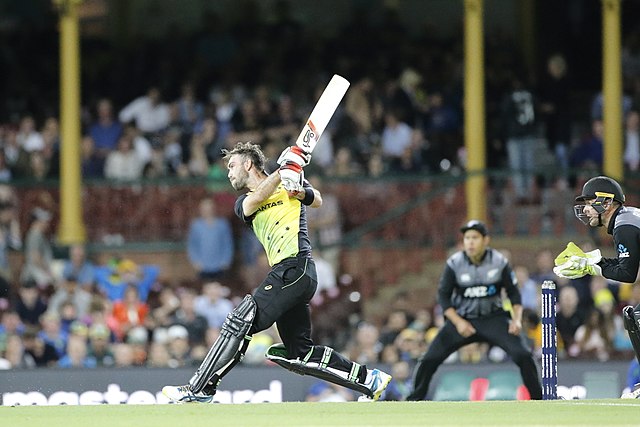 Key Points:
Glenn Maxwell scored a double century, even with an injury.
He made 201 runs in just 128 balls.
Sachin Tendulkar and Pat Cummins praised his performance.
This win sends Australia into the semifinal against South Africa.
Maxwell's score is a record for Australia in ODI cricket.
Glenn Maxwell, who plays cricket for Australia, did something incredible. In a big game against Afghanistan, even though he was hurt and it was hard for him to walk, he scored 201 runs without getting out. This helped Australia win the game. They needed to get more than 291 runs, and Maxwell made it happen almost by himself.
Pat Cummins, the captain of the Australian team, and Sachin Tendulkar, a very famous player from India, both said Maxwell's game was one of the best they've ever seen. Tendulkar even wrote on social media that it was the best one-day game he's seen in his life.
Maxwell was in pain because his back and legs were cramping, but he kept playing. He hit the ball really well, with 10 sixes and 21 fours. Cummins, who was also playing, said he just watched Maxwell do his magic.
This game was very special because it's rare for someone to score so many runs in a one-day game, especially when they're not the first batter. Maxwell's game has set a new record for Australia, and it's only the 11th time a man has scored 200 runs in a one-day game.
Maxwell's big score is even more amazing because he had an accident before this game and couldn't play in the last match. But he came back strong for this one. Now, the team is getting ready to play against South Africa, and they hope Maxwell will be ready to play again after he rests and gets better.