In the wake of the escalating Israel-Gaza conflict, thousands of Israelis are protesting, demanding Prime Minister Netanyahu's resignation following a Hamas attack. Simultaneously, Arab leaders are meeting with the U.S. Secretary of State, advocating for an immediate ceasefire. The Israeli military has surrounded Gaza City as airstrikes persist, resulting in significant Palestinian casualties, including a large number of children.
Key Points
Mass protests occur in Jerusalem calling for Israeli PM Netanyahu's resignation.
Arab leaders engage in talks with US Secretary of State for an immediate ceasefire.
Israeli military surrounds Gaza City; airstrikes continue.
Over 9,488 Palestinians reported dead, with 3,900 children among the casualties.
The October 7 Hamas attack in Israel resulted in 1,400 deaths and hostages.
Israeli ground troops conduct operations in the southern Gaza Strip.
UN school shelter in Gaza City hit by blasts, resulting in multiple fatalities.
US Special Envoy reports significant displacement within Gaza.
Israeli streets are filled with protestors outside Prime Minister Benjamin Netanyahu's residence, demanding his resignation over his response to the deadly Hamas attack on October 7. The attack not only sparked the latest war but also led to significant Israeli casualties and the capture of hostages by Hamas militants. The demonstrators are calling for accountability, the safe return of hostages, and a moment of silence for those who have died or are held captive.
As the Israeli military intensifies operations around and in Gaza City, the situation for civilians remains dire. Israel's strikes have targeted areas suspected of harboring militants, but the conflict has led to thousands of Palestinian casualties, and hospitals are overwhelmed. Amidst the chaos, a UN school serving as a shelter was struck, leading to the loss of more lives, including women and children.
In an effort to address the growing humanitarian crisis, Arab leaders are actively discussing ceasefire options with US Secretary of State Antony Blinken. The talks, held in Jordan, underline the region's desire for an end to the hostilities, which have also led to significant internal displacement within Gaza. The UN reports large movements of civilians to the southern parts of the Strip, seeking safety away from the conflict zones.
Despite calls for a ceasefire, ground operations by Israeli troops in southern Gaza suggest a continuation of the military strategy. The Israeli Defense Forces (IDF) have reported engagements with Hamas militants emerging from tunnels, and despite opening a corridor for civilian movement, many remain too frightened to move due to the presence of Israeli tanks.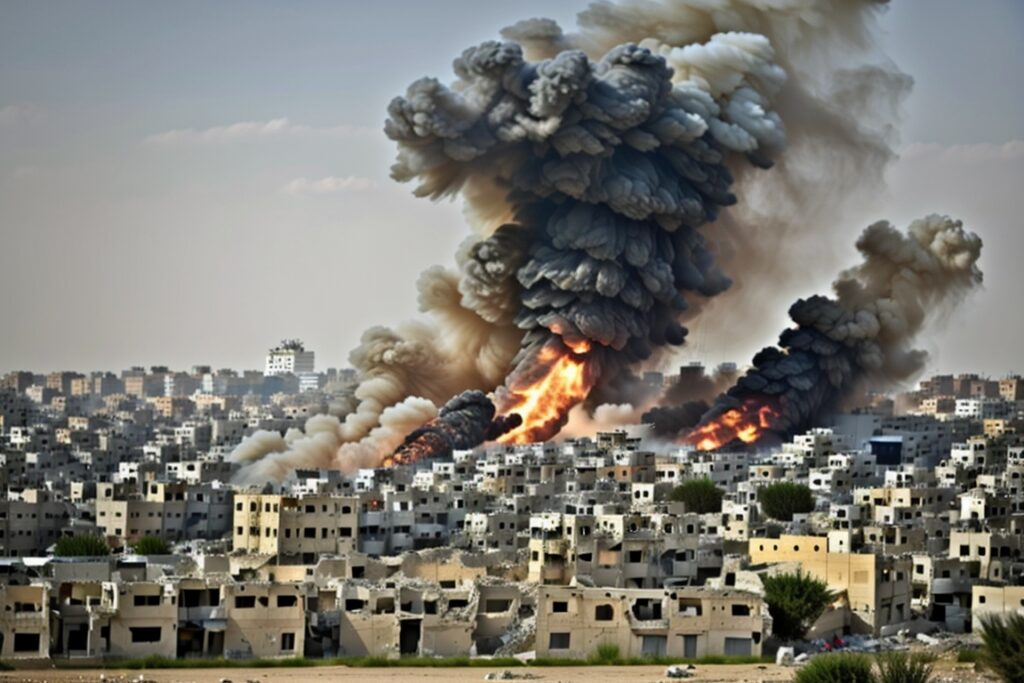 The Gaza Health Ministry has stated that the recent blasts, including those at the school shelter and near a children's hospital, have caused numerous casualties. Meanwhile, the family home of Hamas' exiled leader Ismail Haniyeh has also been targeted.
The international community continues to watch the unfolding events with concern. As talks for a ceasefire advance, the hope is that immediate and effective measures can be taken to prevent further loss of life and bring an end to the suffering on both sides.